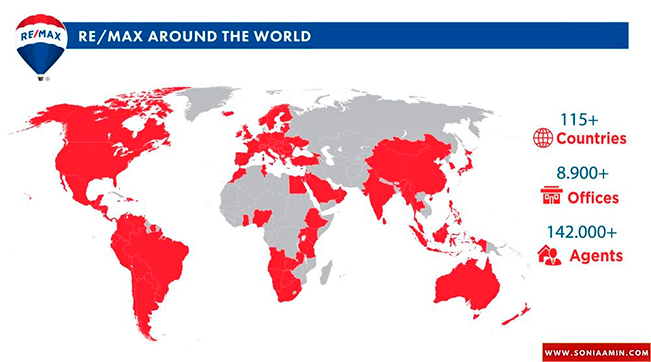 Tapping into the global scope and phenomenal presence of the RE/MAX International Network gives RE/MAX a unique and powerful advantage over any other Real Estate organization. Having access to thousands of international referral sources is key to finding qualified buyers and sellers. With a presence in over 100 countries and territories, the RE/MAX global footprint is unmatched by any other Real Estate brand. The ability to market our clients' homes on an international scale is a game changer. Potential buyers can be anywhere in the world. The RE/MAX Global Referral Network, powered by RESAAS, gives us access to a valuable community of experienced RE/MAX Sales Associates from around the world.
If you are looking to relocate to another city, state or country, I will help you find an experienced agent in that area. I have been a reliable resource to many local Trusted Advisors helping them connect with my network of experienced RE/MAX agents for their clients who are relocating or selling their assets in another state or country. We at RE/MAX are always ahead in our Global vision for Real Estate.
LOCAL EXPERTISE, GLOBAL CONNECTIONS!!